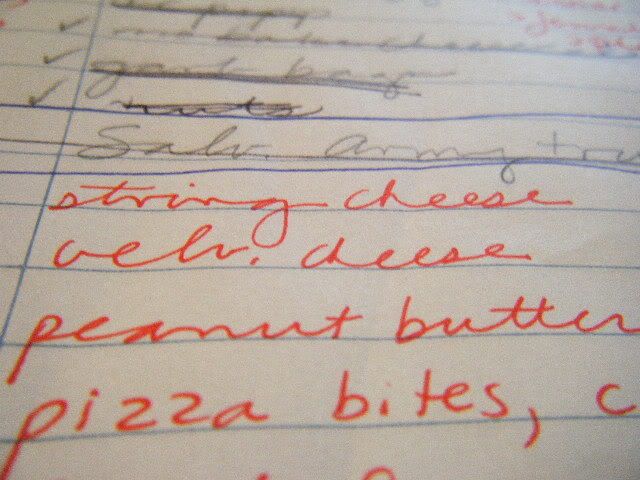 So I'm at Walmart (otherwise known as "Missy's Favorite Place") when the three-ring circus begins. I've tried to think of the best way to relate the adventure; to keep from writing an over-long post, I decided to list the pertinent events, hoping you'll get the flavor and feel the drama as you read.
LIST
:
1
need to get in and out of Walmart for a few quick items, then on to an appointment.
1
immediate
encounter with friend from church.
1
episode (while talking with talkative friend from church) of cell phone ringing, ignored, ringing, ignored, ringing, ignored, ringing (same number, which I couldn't identify and that's why I ignored it), answered, to find husband on the other end asking me to look in the kitchen for his cell phone (I can't, I'm at Walmart, I have an appointment.)
1
encounter with another friend from church.
1
episode of phone calls back and forth to daughter at home to ask her to look for her dad's cell phone and then call her dad back at the number he called me from, which I can't remember each time I call my daughter, and don't have a pen to jot down.
1
sensation of uncomfortable heat beginning to emanate from my body.
1
encounter with
another
friend from church. I know she thinks I'm odd.
1
trip to the pen section.
1
trip to the dressing room to change out of the now-impossibly-hot, (due to my slightly worked-up state), foil-lined pullover I know better than to wear but keep wearing, and into a lighter, Walmart pull-over I need to cover the raggedy t-shirt I'm wearing and intend to pay for later when I check out.

1
trip to the nearby jewelry department, escorted by the lady from the dressing-room, to pay
immediately
for the lighter, Walmart pull-over.
1
5-minute wait (I have that appointment, remember? And I've only bought two things on my list so far) while the elderly lady ahead of me at the jewelry counter writes a check. It is a laborious process for her and I'm sympathetic, but...)
1
quick investigation of the other, regular check-out lines, which tells me there's no hope there.
1
return to the jewelry check-out lady, only to hear her say to her customer, who has finally finished writing her check, "Oh no, look dear, you skipped a check. Here, let me see your checkbook and we'll start all over..."
1
determined retreat to the grocery section, light Walmart pullover unpaid for (will I be tackled by Walmart security? I know a person who was, once...)
1
encounter with some
other
friends, from my
former
church.
3
steps toward the grocery section.
1
announcement over Walmart intercom: "Will the customer who needed a scan please return to the jewelry department?" The voice, I'm pretty sure, is that of the dressing room lady. She's found me out.
1
trip back to the jewelry department. I have three things from my list in the basket. I think steam from my ears is what's fogging up my glasses. I hope I get there before Security gets the go-ahead to tackle me.
1
question: "Was that intercom announcement for me?"
1
answer: "No."
1
more question: "Since I'm here with no other customers in front of me, can I go ahead and pay for my lighter, Walmart pullover?"
1
answer: "No."
1
trip back to the grocery section, and I'm appalled at my *ahem* dare I say
murderous
mindset this morning, here at Walmart. Why am I such an angry person? I
am
an angry person. A flood of revelation breaks through: I
am
an angry person, and I'm helpless to change myself. I need God's help. I need to change, for his glory, and I'm powerless to change myself.
One last episode, in the bread aisle. My list is almost done. I pass two elderly ladies; one of them, the younger one, tells the older one, "I don't know if you know this, but I just lost my husband. I sure do miss him." I toss a loaf of bread into my buggy and glance back, just to see who owns the faces that are speaking. The older elderly lady is answering her grieving friend; the wrinkled face is beaming, she reaches a gnarled hand out to touch her friend, and I hear her say, "This is what he lived for... this is what he was saved for. He's finally in heaven with Jesus."
My throat is tight even now as I remember it. I might not ever forget that lady's ancient, worn face and stooped figure, and the thrill of love in her weak voice. It's what
she
has lived for, it's what
she
was saved for. And likely, it won't be long 'til she finally wakes to see the lovely face of her Savior and King, of Jesus, in heaven. At last.
I lost the anger, though I see that I become sinfully angry and need God's help to change. It was a divine appointment, long planned. I entered the bread aisle with one outlook, and exited it at the other end with another. God planned my trip to Walmart today with a view to opening my eyes a little. I'm thankful he did.
LIST
:
1
appointment--the one I was fuming about because it was
my
agenda and
my time
and
my
plan--kept, with plenty of time to spare.
1
foil-lined pullover into the Goodwill bag!